Shop The Collection
We're not just another sunless tanning brand, we're encouragers of creating a fulfilling life that allows you to radiate your authentic self.
PROFESSIONAL SOLUTION
9.5% DHA
Introducing Dolce Glow Senza Sole Pro Solution: the exclusive sunless tanning formula from celebrity spray tan artist Isabel Alysa.  This revolutionary, luxury solution is specifically designed for the professional spray tanner, giving you and your clients superior, natural-glowing results.

PROFESSIONAL SOLUTION
12% DHA
Formulated for every skin type with an advanced blend of skin-loving ingredients and antioxidants that deliver an alluring bronze glow while reviving skin's tone and texture. Senza Sole Pro Solution eliminates orange undertone issues giving your clients a healthy, hydrated golden brown glow without the harsh effects of UV exposure.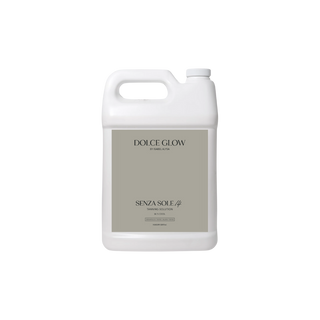 PROFESSIONAL SOLUTION
14% DHA
Your clients will experience the same confidence boosting glow enjoyed by Isabel's top celebrity clientele with the new Senza Sole Pro Solution!